Featured Item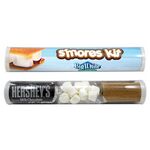 Large S'more Microwave Kit - 48 Hour Exp...
This large Microwave S'mores Kit includes 9 graham cracker sheets, 9 marshmallows, 3 Hershey's milk chocolate bars, and makes 9 delicious servings. If temperature exceeds 70 degrees, shipping coolers ...
$14.30 - $15.95
Welcome!
Search our online catalog of over 750,000 products for ALL of your Promotional needs!

Imprint Anything!

Welcome to the Homer Miller Company! Homer Miller's Mission is to promote the prosperity of our clients through the effective use of promotional advertising, corporate apparel, awards, and distinctive motivational campaigns. Our consulting service affiliate strives to help clients enlarge their vision, teamwork, planning, and bottom-line results. It is our sincere belief that the quality of all relationships must be based on respect and integrity.
May We Serve You?




BIC
BIC Graphic USA




Norwood
Over 25 Amazing Product Lines